We love online dating; even if you have the busiest schedule known to man, you can still hop online or use a mobile app to build confidence and talk to people of the opposite sex. When in the waiting room for the doctor, commuting to work, or queuing at the local store, you can open the app and reply to messages. Let's not forget, we can also talk to more than one woman and increase our chances of finding that special somebody.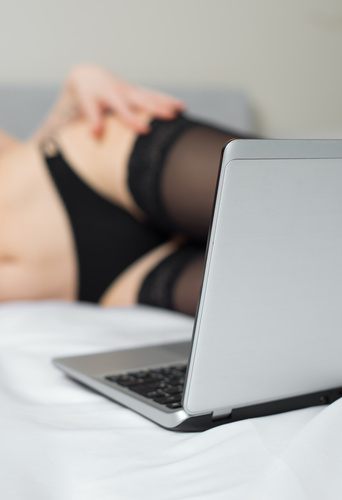 Of course, the obvious drawback to this is that we don't get to meet them in person. As any psychological expert will tell you, relationships are forged with face-to-face communication because we get attracted to body language, certain habits, and even the way somebody holds themselves with confidence.
Recently, we discussed the use of video chatting as a solution but we should point out the pros and cons of choosing this method. Sadly, video chats don't always go to plan so we've laid out the problems and benefits below!
Pro: You See Their Behavior
If you wonder why people who date online tend to use video calls often, this is one of the main reasons because you get to see how she behaves in a regular conversation. As you talk, she can't restrict herself as she would through text and you can learn more about her (as she can about you!).
With a simple video call, you see expression, the way she talks and smiles, and you learn the traits she carries. Rather than relying on pictures, videos allow for a more natural interaction and it's this that normally builds that first attraction or tells us we aren't compatible. That's why video chat is much better than picture
Pro: Video Sex
As you start to get more comfortable with one another, you might both have the confidence to suggest video call sex and this is a unique experience. With a simple striptease, you build a level of trust that isn't available via pictures; from here, you can take your relationship forward.
Con: Connectivity Can Be a Stumbling Block
If you've both got a webcam and you both want to talk, this is great…but it isn't as straightforward as this. Whether you go through the dating website or even Skype, connection can sometimes be a huge factor. If you don't have a good connection at the best of times, you aren't going to get a high-quality video call and this can soon become frustrating. With the screen lagging and showing a grainy picture, it can actually lead to misunderstandings and other issues.
To fix this, we recommend upgrading your internet connection, plugging your computer into the router directly, or just making sure the video call is the only focus for your router (i.e. have no downloads/uploads running in the background). If none of these options are available to you, it may be a case of sticking with the traditional phone calls until you have an opportunity to meet up.
Con: She Sees You
Although this is a slightly negative mindset and one we hope you don't have, video calls are two-way which means she gets to see your habits. Just like the call, attraction is two-way too and it might be that she isn't attracted to you or she doesn't like a certain habit you have. Normally, this leads to us feeling self-conscious and a little nervous.
At this, we say you need to be confident and just relax otherwise nerves will play a part (and she won't see the real you!). If she decides not to contact you again after the video call, don't be disheartened. Sometimes, we just aren't attracted to one another and it can happen to all of us. Eventually, you'll find someone with which there's a mutual attraction and connection. When this happens, the whole journey will have been worthwhile!