How short is a 'short' girl? Well, this depends on your own height because it's all relative. However, we aren't about to jump into the science of what 'short' means. Instead, we're going to provide you with ten things you should know if you're dating a short girl!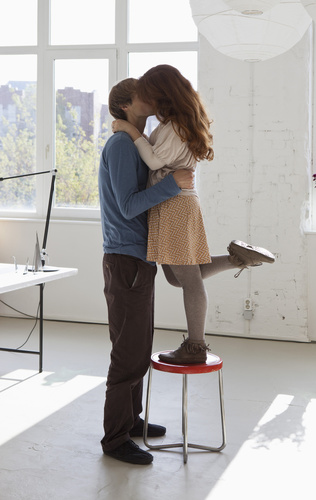 Personality is Heightened
Although she might lack height, she certainly has a personality. In order to make themselves seen and heard, short girls are often loud and more confident so don't assume she'll be timid even if you're meeting for the first time. And there is questions you should never ask on a first date
Nicknames are a No-No
In truth, we shouldn't have to explain this but nicknames referring to her height in any way should be avoided AT ALL COSTS. Don't make her feel bad; she knows she's small!
She Knows Her Height
Following on from the previous point, you don't need to point out that she's small. Whether she likes it or not, this is something that gets mentioned frequently so dare to be different and show her some respect instead. If you're on a first date, gauge how she feels about her height and act appropriately.
Your Back Will Hurt
Whether she wants a kiss or perhaps a selfie together, you need to be prepared to bend down often. Considering she can only go as far as her tiptoes, you need to help out a little here.
Heels are Her Thing
Generally speaking, short girls come to love their height but this doesn't mean she won't enjoy being taller on dates and nights out. No matter how much they complain about their feet hurting, the heels will remain in place and her collection will only grow over time.
Aging Just Doesn't Happen
Even after reaching her thirties, she'll still be pulling out the ID just to buy alcohol. For her, this is a little frustrating (and a huge compliment!) and it's sure to leave you smiling too.
You'll Think She's Always Cute
Whether it's struggling to reach the cupboard in the kitchen or seeing her legs dangle from a stall, you won't ever stop thinking she's cute. With short girls, there's just something about the way they do things that has men grinning from ear to ear.
She Doesn't Like Being Carried
Of course, all girls like a piggyback ride every now and then but you don't need to keep picking her up and carrying her around.
You Can Keep Your Clothes
Whether you see this as a good or bad thing, you can keep your hoodies without ever worrying she'll keep one because they won't fit her. If she tries one of your t-shirts, it'll look like a dress so it won't be long before she gives up on this game.
Stick Together in Crowds
Finally, if it's your first date, don't go into large crowds because you might just lose her. Don't just presume you'll meet up somewhere along the line; instead, hold her hand and take the lead.
As long as you keep these things in mind, you could just have lots of fun dating a short girl!