When it comes to dating, there are a whole host of activities to do and places to go. For many years, a simple dinner date has been a common choice since it allows a great opportunity to talk and get to know one another. However, there are things that can go wrong with dinner dates such as food preferences, allergies, and the dreaded awkward silence. Therefore, why not cook yourself and enjoy a more relaxed atmosphere? Here are some fantastic tips to ensure it all goes smoothly!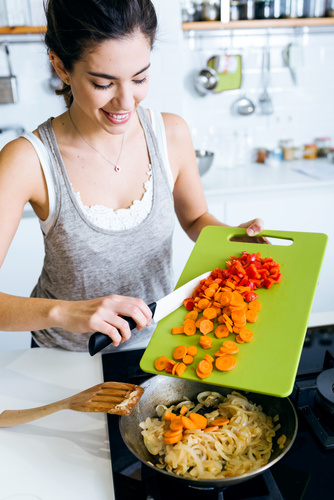 #1: Research
First and foremost, have a conversation with your date so you're aware of allergies and preferences. Preferences can be very different depending age, habits, religion, race, and so on(more about features of dating outside your race here) Sometimes, we like to surprise our date but this is no good if the surprise is an allergic reaction!
#2: Use Ingredients Carefully
As we all know, some foods will stay with you for some hours afterwards. With the sounds and smells that can come from cabbage, onion, and spicy beans, this is likely to cause issues as the evening progresses. Therefore, we recommend keeping it simple and delicious.
On the flip side, some ingredients are 'aphrodisiacs' which means they stimulate sexual behavior. As well as the experimental oysters, you could also go for the more trustworthy artichokes, dark chocolate, strawberries, and chillies.
#3: Stick to Your Skill Level
If you're used to TV dinners, now isn't the time to learn how to cook an extravagant three-course meal. Instead, look for simple dishes that offer flavor while looking good enough for a date. If you have some skill in cooking, feel free to show off (as long as you don't get carried away!). If you're nervous about cooking, why not give it a trial run the day before?
#4: Create an Atmosphere
With your date about to walk into your home and get an instant insight into your life, make sure everything is clean and tidy. Although you don't have to clean the whole apartment or home from top to bottom, feel free to remove the dirty washing, vacuum a little, and mop the kitchen floor.
To spruce up the dining area, add some flowers or candles and always have some music playing in the background. If you've already discussed your favorite music, use this knowledge to have an instant conversation-starter; this also shows you listen!
#5: Dress Up
While you might enjoy weekends in your jogging bottoms, you aren't alone tonight so dress just as you would when meeting in a restaurant. If you're prone to spilling drinks or dropping food, leave the white dress/shirt in the wardrobe.
#6: Always Have an Emergency Plan
When nerves take hold, there's no guessing what could happen so always have a backup plan. If the food burns, laugh it off and get the number for the local takeaway; your date will still appreciate the effort and this could be a story you tell to your children as you grow old together!