As the divorce rate around the world proves, sticking with just one partner is incredibly difficult and those who go the distance deserve the respect of all of us mere mortals. Over the years, a relationship requires hard work, determination, love, effort, and trust. When entering a relationship, not only are we gambling they can stay faithful but we're also trusting ourselves too.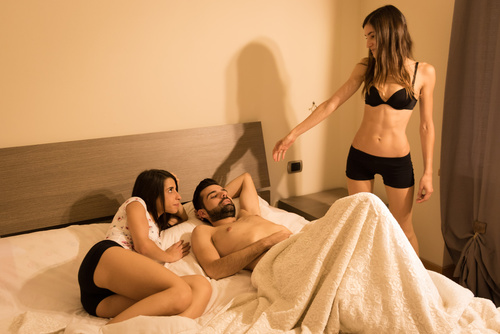 During the early days, the gamble seems like a great decision and one of the smartest you've ever made. As time goes on, lifelong commitments can actually bring many moments of unhappiness. Sadly, many people get married with the wrong mindset these days and it ends up making the couple weaker as opposed to stronger. Today, we're discussing the idea of extra marital affairs and whether they're ever worth it.
Fulfilling Needs
When in a committed relationship, it's all about teamwork and accomplishing certain goals with the help of your loved one. When done correctly, this can bring great satisfaction. For those in lifelong relationships, the objectives and goals change from simple things to bringing up children. As we know, raising children has many emotional rewards but it can also destroy many relationships.
After focusing so much time and attention on the objectives and goals, it takes the attention away from the relationship and this can lead to an unfulfilled feeling. Over time, it's easy to feel under-appreciated and undervalued which is why the attention from somebody else can feel so good. Suddenly, even the smallest gestures mean so much so we recommend working hard for your partner. Even if it's something simple like cooking dinner or holding the door open for them in the cinema, it shows you care and want things to work despite the attention going towards the objective in recent times.
Sexual Satisfaction
After deciding to stay with the same person for the rest of your life, there needs to be creativity and imagination in the bedroom. When staying with a lifelong partner, keeping it fresh in this aspect is one of the toughest things to do. When the sex life deteriorates, this is where much of the unhappiness originates and it then snowballs from here. Orgasm can be the answer to all stressful situations and lack of it can be detrimental for a relationship.
These days, we tend to get bored quickly so we believe the solution is communication with your partner. When leading a busy life, working, and trying to raise children, this can be difficult and your partner might not even want to discuss it. However, things will only get worse once that first step has been taken and this is the reason why many couples can't make things work. For those who keep it fresh and exciting in the bedroom, they tend to have a better chance at making it last.
Splitting Up v Cheating
For many, they let the frustration build and this soon turns into resentment which is the first step to walking down a road that cannot be reversed. Once these steps are taken, it leads to the cheating husband looking for some fun or the unfaithful wife letting somebody in the back door as soon as the husband goes to work out the front.
When in this situation, cheating is something that feels morally right and it becomes easy to justify because we think of the circumstances and the way we are now as a couple as opposed to the early days where everything was right with the world. For many, they argue that a discreet fling every now and then is much healthier than breaking up and destroying the whole family. However, it very much depends on the situation and the individual involved.
If the move isn't malicious and is just to relieve some pressure, an affair might just allow family life to become a little easier. If there is maliciousness, then we would say a fling is a bad idea and that serious discussions need to be had.